Plus Size Knee High Socks
Glamory Fit 20 Knee High Socks
Glamory Fit 20 transparent, nylon knee high socks with silky matte appearance and wider leg circumference, sizes 37-46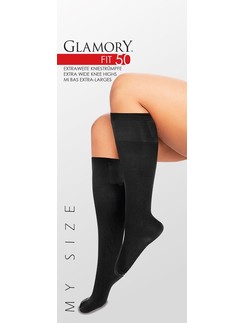 Yes it is possible to have plus size knee high socks! Stitched with a wider calf circumference in mind, those with more muscular or curvy legs may find these knee high socks to be their new best match. Held up from elastic bands, these plus size knee high socks stay in place, but fit more comfortably than smaller sizes by not cutting off circulation and protecting from chafing. We have a variety of colors, sizes, and opacities/transparencies all in plus size.
You can find a whole category of knee high socks here: Knee High Socks
Take a look at our shapewear products while you're at it here: Shapewear
Read more...
What makes knee high sock plus size?


After the release of Gossip Girl in 2007, following B's trends, knee high socks began flying off the shelves. Nevertheless, unfortunately there were significantly less options for those with plus size or wider calves. We've got the solution here plus size knee high socks that give more space and stretch for those with more curvy or muscular calves that are guaranteed to still stay in place. If you often feel that regulate tights cut off your circulation, it may be a good choice to give these a try. Built specifically to fit leg circumferences up to 2 or 3x larger than regulate sizes, these plus size knee high socks don't cut off circulation, but still keep you looking fabulous.