100% Nylon Stockings
Cervin Seduction Couture Bicolore Nylons
Classic, shiny bicolor nylons with back seam and pyramid heel in 7 fascinating colors

Gerbe Bas Carnation 10
Couture style ultra-sheer original back seamed nylons with fully fashioned heel and keyhole tops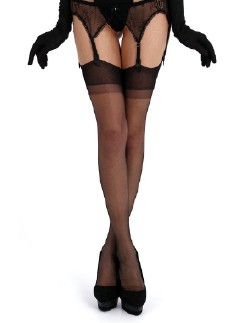 Cecilia de Rafael Barbara Sheer Nylon Stockings 20DEN
Cecilia de Rafael Barbara sheer and shiny nylon suspender stockings with 7 color options and sizes S-XL
Here at the Hosieria online shop we know just how to appreciate vintage nylon hosiery. We have specially compiled just for you a selection of 100% nylon stockings with matching garter belts and suspenders made in the traditional RHT and fully fashioned style. We have variations in levels of denier (opacity and transparency) as well as many color choices. Most of these selected nylon stockings also come with the traditional Cuban or pointed heels. Finish off a vintage pin-up outfit or give your night in a retro look.
Find more vintage style suspender stockings here: Back Seamed Stockings
For a more modern twist, check out our selection of strapless hold up stockingswith back seams Strapless Back Seamed Stockings
Read more...
Narrow down your selection by choosing options from the drop down boxes on the left hand side to filter for criteria like material, size, and price.