Fully Fashioned and RHT Stockings
Glamory Perfect 20 Stockings
Sophisticated and seductive: transparent, silky matte plus size stockings available in sizes 40-62 with 3 color options

Giulia Segreto 20 Suspender Stockings
Giulia 20 den transparent suspender stockings with plain tops and invisibly reinforced toes, sizes XS-L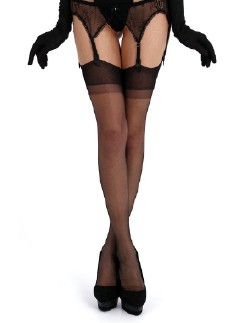 Cecilia de Rafael Barbara Sheer Nylon Stockings 20DEN
Cecilia de Rafael Barbara sheer and shiny nylon suspender stockings with 7 color options and sizes S-XL
Shop from our comprehensive selection of suspender stockings. Whether you are on the search for a vintage look, something for a special evening, or every day wear, we surely have something that can make you look and feel your best. Our wide range of colors and styles can prepare you for even the most unique occasion.
Looking for thigh high stockings without straps/suspenders? Check this out: Stockings
Read more...
Our products include stockings with various garter belt options that have either 4 or 6 straps. We have many vintage style products that come with RHT, fully fashioned, Cuban or pointed heels, and back seamed components, just like what was worn from the 20s-60s. There is also lace top options or just neutral colors as well as bright and nude tones.