Fishnet Hold-Ups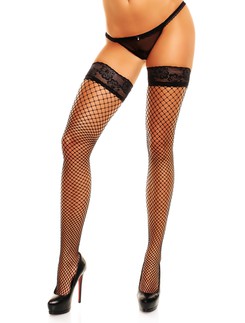 Glamory Mesh Fishnet Hold-Ups
Glamory fishnet hold-ups with delicate lace tops with silicone bands, also available in plus size (40-62)

Giulia Emotion Rete Lace Top Fishnet Hold-Ups
Giulia Emotion Rete lace top fishnet hold-ups, available in black, and 2 shades or brown, sizes XS-L

Discover our great range of fishnet hold-ups in various designs and colours. Fine tulle fishnet and micro fishnet with delicate and romantic lace or floral patterns. Many of our fishnet hold-ups are made with floral lace tops or plain tops with silicone bands, with some even being silicone-free.
Looking rather for hold-ups with straps? You can find them here: Suspender Hold-Ups
We also have a wider selection of strapless hold-ups here: Strapless Hold-Ups
Read more...
If you are allergic to silicone, opt for products from Leg Avenue because many of their fishnet hold-ups, as well as many other products, are made silicone-free.

Narrow down your selection by choosing options from the drop down boxes on the left hand side to filter for criteria like material, size, and price.