Men's Shoe Liners
Falke Step Men Liners
Falke shoe liners for men with non-slip silicone strips on the heels and elastane, 5 color choices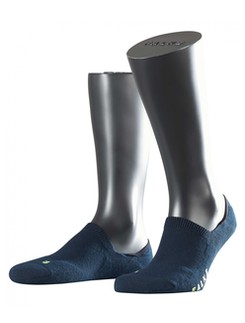 Falke Cool Kick Liners
Falke Cool Kick invisible polyester and nylon blend shoe liners with reciprocated heels, 5 color options
If you like the look of loafers or low cut sneakers, but hate the site of socks sticking out, shoes liners could be a viable solution. Not only do that stave off the smells of stinky feet, they protect the feet from blisters, while also remaining completely invisible under low cut shoes. As the days heat up, every guy deserves to give these a try!
We also have a whole category of socks specifically for men here: Socks for Men
If you would rather have sneaker socks, they are also low-cut enough to not show through most shoes: Men's Sneaker Socks
We have a wider selection of footies here for men and women that are invisible under most types of shoes: Footies
Read more...
Why wear shoe liners?


Shoe liners, otherwise known as footies for women, can also be extremely practical for men. If you enjoy wearing low cut shoes like loafers, boat shoes, or sneakers, foot liners are a great alternative to longer socks that make you look like a greaser from the 50s or an unemployed dad. Our selection is invisible under most types of shoes, but furthermore, wearing shoe liners helps to protect the skin from being damaged by the shoe. It is also a good idea to wear shoe liners so your feet don't smell so much. Feet are some of the sweatiest places on your body so wearing shoe liners will stop this unpleasant consequence, as well as keep up the longevity of the shoes.