Strap-on net stockings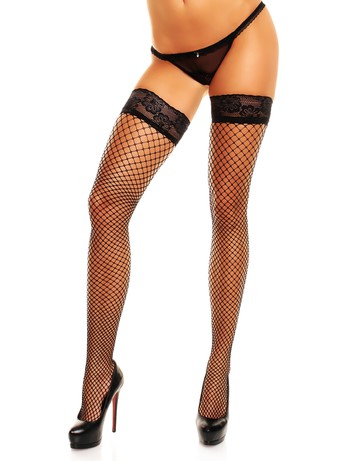 Strap-on net stockings are relative rare today. Today net stockings are everyday life suited, but still a few years ago the net stockings were classified as proscribed. This is surely because of the first public appearances in Paris in the 19th Century. CAN CAN dancer wore the stockings for extremely frivolous looking dances.

Still today net stockings are afflicted with the red light milieu, in particular for men and thanks to the pictures and magazines. Characteristic is the net pattern. Net stockings usually prove a better durability due to the different designs. Besides they fundamentally obtain different wearing feelings than socks. The different mesh sizes reach from a few millimeters to the fishnet pattern. Since they do not enclose the leg completely, there is no heat build-up, therefore the net stockings are very popular with dancers.
It is worth mentioning the high optical cover strength of net stockings. They are able to cover unevenness and spider veins. Though the stockings are still transparent. Strap-on net stockings are rare but stay-up net stockings or net tights are a very popular fashion accessory. Even if everyone thinks net stockings are out of fashion, they always defy the fashion trends for now more than one hundred years. Although you can mistake ajour stockings (floral pattern) with net stockings.