Shorts
Check out our selection of sport short shorts ready to wear for the warm summer days. These shorts work well for exercising, pajamas or part of your daily summer attire. Pair them with a stylish tube top, tank top, or t-shirt and you're ready to go!
More seasonal summer and spring items can be found here: Spring/Summer
Looking rather for undwear? Find them here: Panties, Lingerie, Basics and Accessories
Read more...
Narrow down your selection by choosing options from the drop down boxes on the left hand side to filter for criteria like material, size, and price.
Short and Sassy

Giulia Mini Shorts Model 5
Giulia Mini Model 5 sassy stretch shorts with back pockets, belt loops and side slits with 5 color options
Giulia Shorts Mini Stripe 03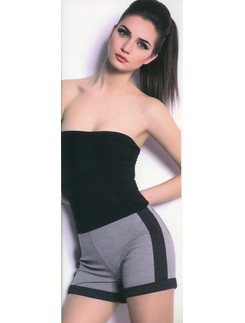 Giulia Mini Stripe 03 denim look rayon shorts in sporty chic design accentuated by stripes on the sides